Gordon S Blair keeps on acquiring new talent

In October, four new professionals have joined Gordon S Blair Law Firm :
Celine Santos, Senior Associate, Estate Planning &International Private Law
Before joining Gordon Blair, Celine has been working as a Notary in France for 10 years.
She holds a French" Diplôme de Notaire", a University Degree in International Private Laws at the University of Lyon III, and she is writing her Doctoral Thesis in International Private Laws and especially in Estate and Tax planning.
Julien Roux, Senior Associate, International Tax Planning
Before joining Gordon S Blair, Julien was a Tax Manager at a large global investment management company based in Sydney. He previously worked at KPMG in Australia, and as a Notary in France. Julien holds a French "Diplôme de Notaire", a Master of Laws, and a Master of Accounting from Monash University in Melbourne.
Cédric Koeppel, Senior Associate, Estate Planning and Personal Taxation
Cédric holds a French "Diplôme de Notaire" and a Master in "professional inheritance law" from the University of Paris IX Dauphine. He has a 8 year experience, acquired first as a Notary, then as a Tax and Legal Counsel at a major French Private Client bank.
Pascal Rouanet, Associate, Tax
Pascal holds a Master Degree in International Trade Law from the University of Montpellier 1 and an LL.M in International Tax Law from King's College London. He trained with a Monegasque lawyer and Ernst & Young Paris where he focused on individual taxation and international mobility issues.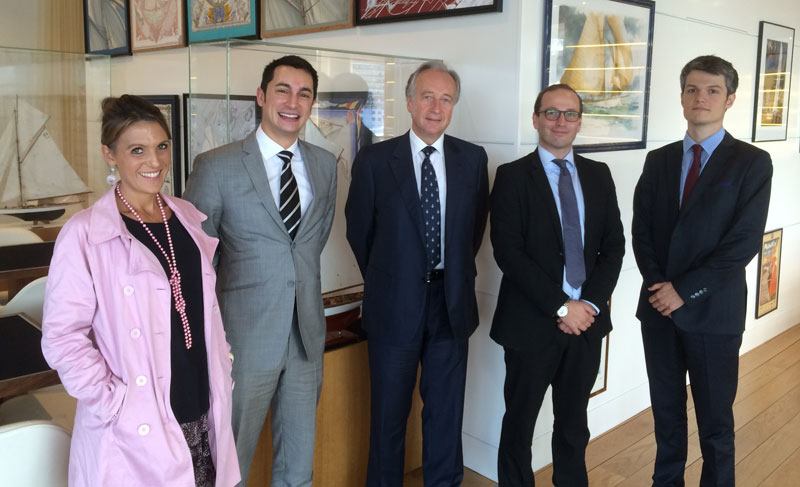 From left to right : Céline Santos, Julien Roux, Xavier de Sarrau (Managing Partner), Cédric Koeppel, Pascal Rouanet